Destination Denver, The mile high city.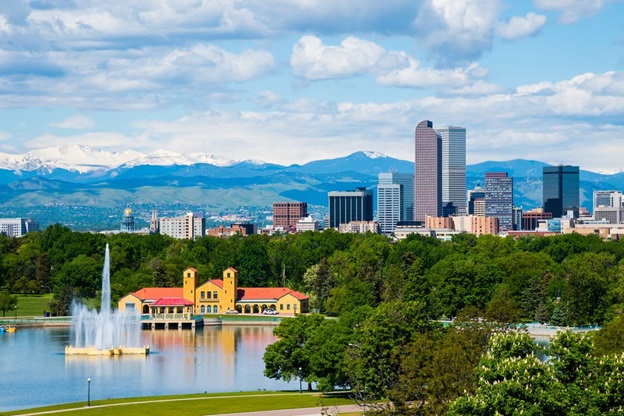 Denver at the foot of the Rocky Mountains is best known for its proximity to the mountains. These offer top ski areas in winter and impressive hiking trails in summer. Due to its location at 1 mile above sea level, the city is called "The Mile High City". But that doesn't mean that you have to expect an alpine climate here.
The city has around 20 square kilometers of parks and green spaces. Especially in summer people meet here for sport, but also for picnics and relaxation. The outdoor city with a lot of urban adventure. Mile High City enjoys three hundred days of sunshine a year, a vibrant cultural and arts scene, and easy access to the Rocky Mountains. You can enjoy the beauty of this city with any of a Denver Colorado tour.
Denver Destinations
Especially in summer, there is a huge selection of events in the city. In the "Red Rocks Park & Amphitheater" you can hike during the day and discover nature. In the evening there are concerts by various artists in the amphitheater, which is known for its excellent acoustics. A highlight in the run-up to Christmas is the "Blossoms of Light" festival in the botanical garden.
You can easily spend several days in the city. But while you're here, you should at least spend a day in Rocky Mountain National Park. Impressive mountain landscapes with lakes, waterfalls, and rugged peaks await you.
From Denver, you drive about 90 minutes to the park. For those in a hurry, there is the 77-kilometer Trail Ridge Road, along which you can ski down the highlights of the park.
Book tours near Denver
There are options as daily tours and private tours for those who want to travel to new places and take a short holiday break. For those with limited time, daily tours and weekend tours planned with pleasant programs in areas close to the city can be an ideal choice.
You can spend a short but unforgettable holiday with the Daily Rocky Mountains tour, Denver Foothills tour, where you can enjoy your stay.
We are a local and credible company, therefore, we have experienced and fun guides and we provide comfortable transportation. Take a look at our website https://denver-tour.com and book a journey today.