Get in the Water, Beyond the Islands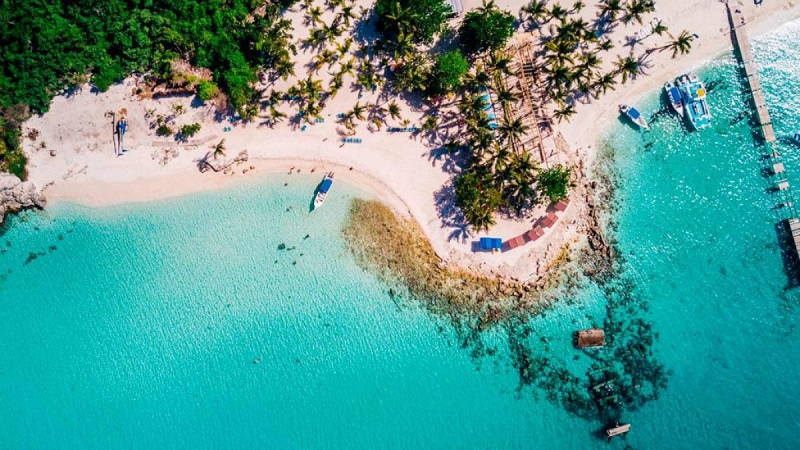 There are plenty of ways to get in the water near Charleston.  You can hit the beach of one of the barrier islands, of course, or jump in the private pool of your own luxury vacation home.
You don't have to be at the beach to get in the water.  Here are some great ways to get in the water while enjoying your Isle of Palms vacation rental.
Explore Shem Creek and local waterways
Shem Creek, located off of Coleman Boulevard in Mount Pleasant, is one of the most scenic spots around.  It's home to local commercial shrimp trawlers as well as the dolphins and pelicans that follow them.  Insider tip: stock up on local fresh-caught shrimp at Wando Shrimp Company, tucked away at 102 Haddrell Street.
Several restaurants line the creek, like Tavern & Table and Saltwater Cowboys, which have rooftop bars, outdoor seating and stellar views.  Dog-friendly Red's Ice House lets you dine al fresco overlooking the water with your pup.
Shem Creek is also the launching point of several fun ways to get in the water, or on it.  Here are some of the best outfitters…
Located at 1 Shrimp Boat Lane, the fine folks at Nature Adventures have some serious water fun up their sleeves.  They'll be happy to get you into a Charleston Kayak Rental or stand up paddleboards (SUPs) for those comfortable exploring on your own.  If you'll be in the Lowcountry for a while, they've got you covered with multi-day rentals. Or you might want to consider their guided tours, expertly led by staff.
Guided tours include day and even overnight expeditions.  You can choose from Historic Shem Creek, the Heritage Preserve, Capers Island, Penny Creek, a blackwater swamp in the ACE Basin (which the Nature Conservancy has dubbed "one of the last great places on Earth").  They also offer lessons, team building exercises and more.
Tripadvisor has named them the top kayak and SUP rental in Mount Pleasant.  You can reach them at (843) 568-3222.
No surprise, Sea Kayak Carolina is all about the kayak.  Whether you're a pro or just starting out, they've got you covered.  They do beginner's lessons, private classes, one-to-one coaching sessions, and even ACA Instructor training and assessment.  You can book a Shem Creek kayak tour, perfect for novices, or 4-6 hour trips.  Kayakers with open water experience might be interested in their custom expeditions.
Sea Kayak Carolina's retail shop at 118 May Lane, not far from Shem Creek, sells and rents anything you might need.  They even handle kayak repair.  Reach them at (843) 352-2267.  They offer tours and rentals seven days a week.
Coastal Expeditions is well known in the Lowcountry.  Their flagship location is at 514 Mill Street, right on Shem Creek in Mount Pleasant, with outposts on the Isle of Palms, Cape Romain, and Folly Beach.
They offer kayak and SUP rentals, at Shem Creek or on the Isle of Palms, with instruction and all the gear you need.  If you do venture off on your own, keep an eye peeled for dolphins and manatees.
Coastal Expeditions also boasts a huge slate of tours and trips of all kinds, along with private boat charters.  Check put some of your choices:  Daily Kayak Tour of Shem Creek, Kiawah River Kayak Tour, Morris Island Shark Tooth Beach Drop, Blackwater Tour of the Francis Marion National Forest, and adventure trips to Bulls Island or St. Phillips Island.
You can call or text them at (843) 884-7684, or check out their online presence.
Get thee to a waterpark!
It's hard to find something that screams, "Summer!" more than waterparks.  They may be the most concentrated fun way to get in the water.
In the Charleston area, there are three great waterparks to choose from.   They are all under the umbrella of the Charleston County Park system, which has some of the very best county parks in the United States.
Splash Island is located within Palmetto Island County Park, not far from Boone Hall Plantation in Mount Pleasant (444 Needlerush Parkway, to be exact).  PICP has 943 acres of natural wonderland, with boardwalks, bike paths, picnic areas and even paddleboat rentals.  Tucked inside is Splash Island Waterpark, and it's overflowing with water fun.
They've got a 200-foot body flume, a 16-foot otter slide, sprays, geysers, and raindrop waterfalls, a cyclone swirling water ride, and activity pool.  For your comfort and safety, there are also lifeguards, concessions, restrooms, shower/changing areas, locker rentals and lounge chairs.
Call them at (843) 795-4386 for all the details.
Splash Zone Waterpark is located within James Island County Park, at 871 Riverland Drive in Charleston.  The waterpark offers a 200-foot tube slide, a 200-foot open slide, a rainforest play structure with slides, buckets, sprays, and more, a 500-foot lazy river with an adventure channel of sprays and waterwalls, a leisure pool, concessions, shower areas and the like.
FYI, James Island County Park also has saltwater fishing and crabbing, horseshoe pits and a sand volleyball court, along with miles of trails and wide open grassy meadows. Call (843) 406-6990 for more information.
Whirlin' Waters Adventure Park is a 15-acre waterpark found within the boundaries of North Charleston Wannamaker County Park, located at 8888 University Boulevard in Charleston.
It's chocked full of all kinds of water fun.  Check out Washout  –  "Two slides, 65-feet in air, & full of breathless, near-vertical climbs, plunges twists, & turns!"  And then there's The Big Kahuna.  It's a huge wave pool  –  over 27,000 square feet in size.  Rip Tide Run (side-by-side water slide racing on mats), Rollin' River (870 foot lazy river), Tubular Twister (three different 300-foot slides), Big Splash Tree House (with 66 different interactive play elements like jets, pinwheels, body slides, troughs, waterwheels and a giant water dump bucket), plus Otter Bay and Lily Pad Lagoon for the younger set.
Whew,  That's a whole lotta water fun.  Reach them at (843) 762-5585.
So even if you're not on an island there are multiple ways to get in the water here in the Lowcountry.  Take your pick, and get wet!