Planning to Travel During COVID-19? Know the 9 Things Your Must Carry!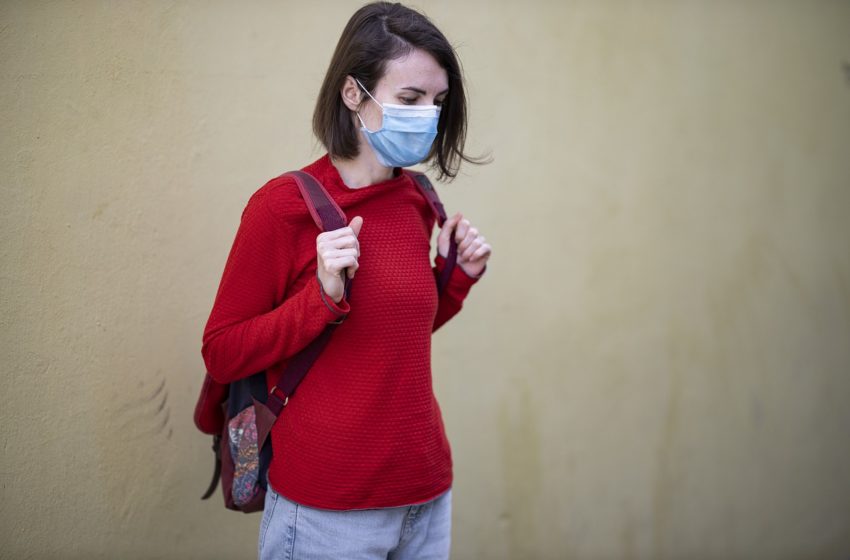 The pandemic has drastically changed our lives. Now we do not breathe in as we used to. Social distancing has taught us not to hug like ever before, think twice before shaking hands. It is unbelievably true, how a strain of minuscule virus has torn our world apart. Our brilliant scientists around the world are diligently committed to giving us the vaccine any time soon. But until that time, are we just going to sit and relax indoors 'cause we might catch Coronavirus if we hang out outside? No way! Life is too short to spend between the walls and if you ask the doctors, there is no harm in traveling with the proper protective measures.
So if you are planning to travel during or post COVID times, here are the 9 PPEs you should always carry or wear!
1. A Mask Is a Must
Be it you regular travel, or a relaxing trip, there's no way without a mask. People tend to go casual, especially when they are on a weekend getaway or alike, but if you aren't wearing a mask you are exposing your family and friends to the disease. The FDA & CDC Whitelisted KN95 5-ply masks can filter 95% of particulate matter >0.3 microns. You can also choose the 3-ply disposable masks efficiently designed for advanced filtering. If you're going on mountain hiking or something the athletic breathable masks are your thing. The Athletico Soft-Touch Face Mask is made from foam and polyester that makes the material stretchy, breathable, and washable.
2. Multipurpose Bandanas
Want to spend your holiday in style? It is a fact that the COVID-19 times have curbed our right to fashion to a great extent. But worry not! There is always a way or the other to appear in trend or rather set a new trend. Take the multifunctional bandanas for instance. You can use this bandana as a neck warmer cum mask, head Band, or scarf. Generally made of polyester these multipurpose bandanas are available in the market in sets and different colors.
3. Hand Sanitizer – The Savior
No matter wherever you are, no matter whatever you are eating, you must and must clean your hands before and after with hand sanitizer. Remember, not just any sanitizer but the FDA approved products that contain 62% ethyl alcohol. So even if you have soap and water out of your reach wherever you are traveling, the instant alcohol-based hand sanitizer will save you from any contamination.
4. Disposable Gloves, Anywhere, Everywhere
Protection is better than cure. And double protection has never hurt a single soul on earth. Even if you are carrying your instant pocket sanitizer keeping a pair or a box of gloves won't cost you much. Because when you are traveling, you might have to deal with unprecedented situations, who knows? You might run out of your sanitizer bottle, you might help others with the pair of gloves, so don't risk it. The non-latex, powder-free, clear disposable gloves can be found in different sizes. Pick yours and have a nice trip!
5. Ensure Safety with a Face Shield
Are you required to travel a lot for work purposes? Do you need to travel to a medical facility shortly? For such emergency travels what you need is a clear protective face shield. The shields come with comfortable elastic straps so that it stays in place. The fully transparent shield is anti-splash, anti-fog and provides full-face isolation protection against large droplets, projectile saliva, and body fluids. Don't forget, you also have to wear a mask along with a face shield for maximum protection against Coronavirus.
6. Protect Your Eyes with Safety Glasses
The eyes are the most sensitive areas of the human body. So is there a way you can protect your eyes if you are exposed to certain risks? Yes, by wearing protective safety glasses. These polycarbonate glasses offer anti-fog ventilation and protect the eyes from any kind of splatter, even debris, and sand. Its large size fits well over the prescription glasses as well and the clear lenses make sure your vision remains obstruction-free
7. Safety Goggles to Your Aid
For some of us, traveling is not a choice but a professional compulsion. Individuals who are medical reps, lab workers, health professionals, who are exposed to the perilous infections environments time and again, are the real-life heroes! And heroes do need weapons or shields to fight on. The 100% silicone safety goggles save the eyes from saliva, dust particles, sand, iron so that your devotion to your noble services remains uninterrupted.
8.Wipe off the Harmful Viruses
If you are planning a long drive this weekend, don't forget the antibacterial wet wipes. You surely aren't unfamiliar with the perfumed wipes easily available in the market. It's time, you take a step ahead, push yourself forth in line with the general health standards in this 'New Normal'. The antibacterial wet wipes don't just keep you fresh outdoors but its cleaning formula cleanses your skin and any surface. So now you don't have to worry about using public toilets, public transports or touching any exposed objects. Simply wipe off the germs and enjoy your time.
9. Sanitizing Pens
Family trips are great to learn and explore together. And you can gift your kids their very own PPE for the next trip you're planning. The refillable sanitizer ballpoint pens with a pump sprayer can be filled with sanitizers or just any liquid. Fill it and spray it, show your kids how to use it and they would love it.
Our human beings have been fighters and will get over these trying times soon, positively! We are in this together; with appropriate measures and scientific discoveries, we shall definitely head towards a safer and better future. Till then, wishing you safe traveling!